Blog
8.22019
Uminohikai 2019 trip.
Today:0views / Total:688views Written by:
稲山奈保実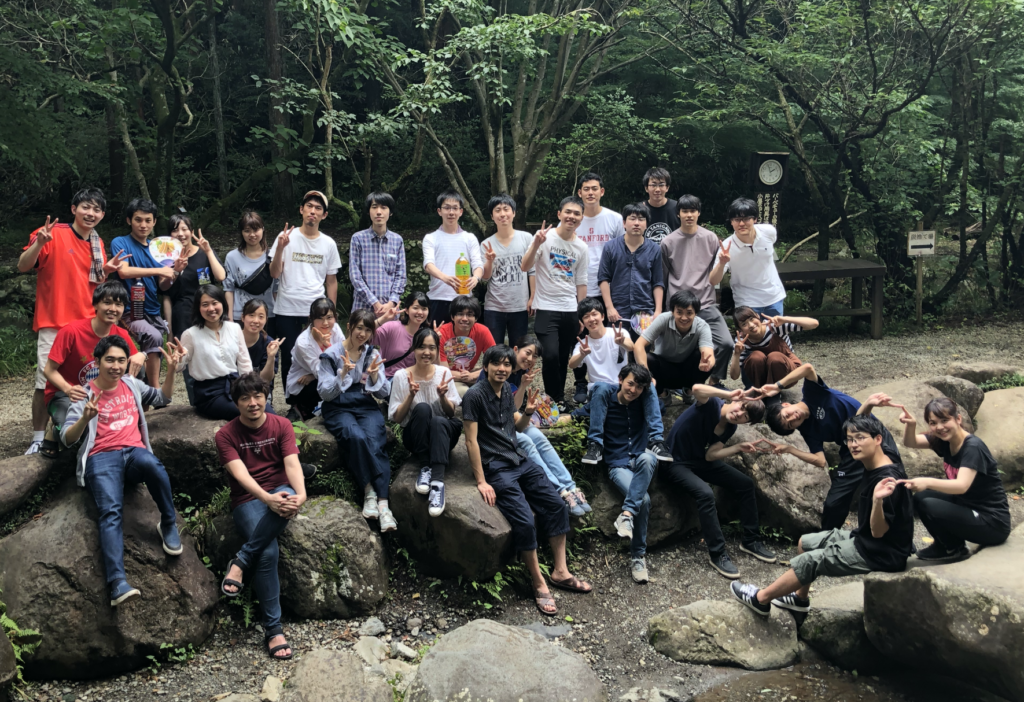 Hello everyone!
With Summer just around the corner, it is time to get planning for a trip!
As usual, we get to enjoy the wet and damp rainy season every year and I was hoping for a bright sunny day. Praying for summer to come! However, it has been cloudy everyday but I woke up on that day to blue skies, resulting in me, INAYAMA Naomi turning into a hot tiring summer mess.
In this chapter, I would like to talk about the annual "uminohikai" (a one-day trip held once a year to celebrate the start of summer season). Our trip was planned by Master's 1st year, Aika, Kikuchi and Takada with a cute pamphlet showing our schedules.
This year's uminohikai has been engaged in activities called BBQ and Parcabout Tree Nets in Odawara and Ashigara areas of Kanagawa Prefecture. Unfortunately, uminohikai regularly suffers from the weather every year and last year was amid of typhoon. Last year, we had our uminohikai playing Survival game under strong typhoon but it was very enjoyable! At first, I thought this year would be fine because it will be difficult to cancel all reservations. However, weather forecast reported typhoon Nari is going to directly hit Japan for 2 days. The day before the trip, it was raining heavily but there were no objections to continue with the trip. So, I waited with hope and optimism for the next day to be sunny. Fortunately, the rain decreases overnight and was met with a sunny weather on that day.
It is a blessing with such weather that we were able to start our journey in divide groups by car!
When we arrived, we begin with barbeque (BBQ) in the forest of Odawara. First, we cut our own vegetables and start our own fire in respective groups. There were various ingredients brought to cook such as beef and pork, vegetables like cabbages and mushrooms. As I expected, summer BBQ is the best! After the meat was grilled, I had Japanese noodle stir-fry dish (yakisoba) and it was delicious. I tried to grill the sweet potato which I found and it was so delicious. Some of the groups also cooked yakisoba and it looks so appetizing. (Delicious BBQ left a good impression..).
After BBQ, I went to play and relax in a small river in front of me. Even though, they were a few people play innocently in front of me, most people watched and chat from above. I was helplessly in my own world playing crab and butterflies! Haha! (feels like an elementary school picture diary).
Next, I moved to Ashigara and did an activity called Parcabout. What is Parcabout about? Parcabout is located at the centre of the isle of Groix island, France. It is made up of series of nets, ropeways and trampolines set within a forest where kids and adults can play soccer, dodgeball, badminton and other activities. Groix Island is a thriving fishery, and it seems to be the beginning of the fishermen's thinking of new play using fishing nets. (I've just learned this today haha!).
To be honest, I don't know really what is the size of the net and what to expect before going there, is it really safe for children? I was a little anxious, but it was fun when I played there. It was actually an activity that could be played not only by children but adults. We all played dodgeball together and within 10 minutes, everyone was lying down on the net dead tired and sweaty. If you have the opportunity, I highly recommend for you to go and play.
Then, we head to a hot spring (onsen) called 'Only Yu' onsen which is close to Parcabout. After so much sweat and a lot of exercising, going to an onsen is an exceptional experience.
I feel refreshed after going to onsen and it was time to return home. We were able to have fun in this uminohikai trip and return home safely this year. Thank you to everyone in M1 especially people who drove, Jun-san, Kei-san, Asako-san, Kayashima-san, Hiroki, Saori, Shuhei, Ayane (Ha!). Thank you very much.
It has been a tiring and successful trip! B4, please do your best in planning next year's uminohikai! Good luck!
The following two tabs change content below.


Comment