Blog
7.162019
(日本語) 七夕餃子大会
Today:0views / Total:665views Written by:
浅子貴士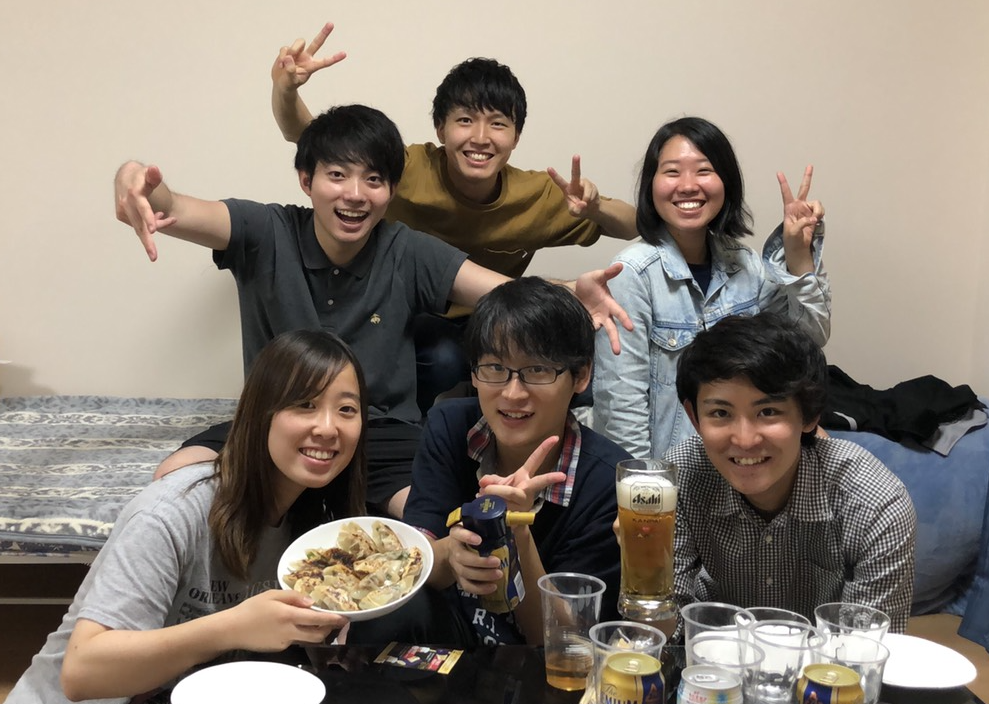 I am Asako, It's been a long time. I decided to do doctoral course in April and finally became D1. From this fiscal year, I will be assigned as an assistant in the Department of Applied Chemistry. I would like to do my best in my research life with the power of younger juniors and with a strong sense of responsibility.
Half a year has passed since I started living alone and had a sukiyaki party on the day I moved in. This time as a second step, a dumpling party was held at my house on July 7 (Tanabata). At that time there was no refrigerator and it was hard because I couldn't keep my food and liquor. Luckily, my friend gave me a refrigerator so I could buy a lot of food. Thank you very much.
First, we gathered around in the afternoon and went to buy grocery. At the same time, I finally bought basic seasonings and a frying pan. I bought cheese, kimchi, large leaves, bacon, etc. In addition, typical material (pork and leek) for dumplings. After returning home, it's time to make dumplings! I have learned how to wrap dumpling since elementary school but mass production of distorted dumplings has occurred. The gyoza was badly cooked by me. The sound of juiciness when water was added intensified my appetite. After a long time, handmade dumplings tasted like hamburger and were delicious. As for the creative dumplings, Ooba was personally a key point. Finally, eat ice cream and tighten! I thought that I emptied the sake that was at home one after another, and drinking continued until midnight. lol
It was held before the entrance examination so I could not invite 4th graders but I would like to host it again. If there is an opportunity, so let's make something with everyone including those who could not participate this time!
The following two tabs change content below.
Comment