Blog
12.52016
I wrote an "article" on Chemistry & Chemical Industry
Today:0views / Total:1,191views Written by:
山口 潤一郎
I wrote an "Editorial" in the December issue of the chemical journal of the Chemical Society of Japan.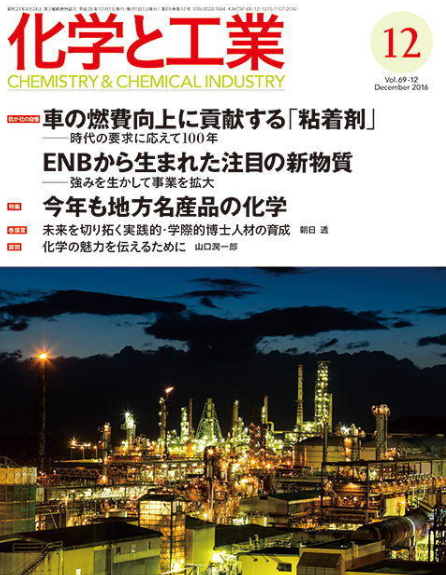 This topic may not be familiar to you but what is the meaning of writing an "article" on Chemistry and Chemical industry?
It is based on the writing requested by the editorial committee member of the Chemical Society of Japan or the editorial committee, and the literary responsibility basically lies with the author. The Chemical Society of Japan recognizes and posts this content as an important opinion for the Society. [Editorial Committee]
It is written by many prominent university chemists and companies. I started writing an editorial request as a young person because of a request from the editorial committee. It was a good experience because I have never written anything like this. The writing took a longer time than writing a Chemistry paper although it is only two pages long. A booklet has just arrived from members of the Chemical Society of Japan, and it is also available online so please read it if you are interested.
[Additional note] paper is「The moment when Chemists are touched」
The publisher was "Chemical Doujin" not "Tokyo Chemical Doujin". I will correct it here.
The following two tabs change content below.
趣味はラーメン、マラソン、ダイビング、ウェブサイト運営など。化学の「面白さ」と「可能性」を伝えるために、今後の「可能性」のある学生達に,難解な話でも最後には笑って、「化学って面白いよね!」といえる研究者を目指している。.化学ポータルサイトChem-Station代表兼任。
Comment